Technical translators for filling systems and sterilisation technologies
Translation for filling systems and sterilisation technologies in the food processing industry
The technical translators at Polydioma translation agency work, among other things, for companies that design, produce and supply processing equipment, filling systems and sterilisation technologies to food and drink producers all over the world. The objective of these companies is to extend the shelf life of packaged products such as yoghurt, desserts, fruit juices, soups and sauces.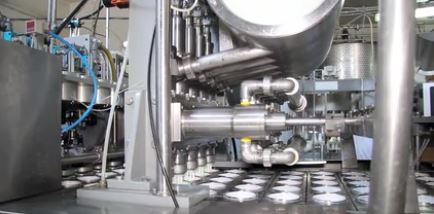 Filling systems and sterilisation technologies for the dairy industry
What is involved here is complex machines and integrated systems for the dairy industry for example. For this sector, food safety and constant quality are essential for the customer, as are taste, smell and appearance. Our customers supply innovative industrial solutions worldwide, such as for the purification of dairy ingredients and for the cleaning and disinfection of installations. They also often look after the production of suitable packaging material, as some products are very sensitive to light and oxygen.
Monotoring the quality of technical translations for sterilisation technologies?
When it comes to high quality translations, the use of the latest translation tools is indispensable. Polydioma translates these files using CAT-software. This software for technical translations offers a number of important advantages.
Completeness: the translation is done segment by segment, there are no untranslated sentences left.
Time: The more sentences that can be copied from the translation memory (TM), the faster the translation will be completed.
Uniformity: uniformity leads to clarity. It helps to prevent errors in procedures within the technology.
Cost reduction: previously translated sentences are usually processed at a lower rate.
CAT-software also helps us to create and maintain extensive databases. They store very specific terminology on, for example, machines in the field of blowing systems for PET bottles, filling systems and packaging for liquid and powdered products.
Monotoring the quality of technical translations for sterilisation technologies?
Polydioma demands professional knowledge from its translators. This means we, we deliver technical documents that are both linguistically and substantively correct. For, although the computer is a useful tool: translating remains a human job. No CAT tool is able to determine the meaning of words in a specific context. No matter how intelligent the software is, human translators and their intelligence are indispensable when it comes to our high-quality technical translations.
The philosopher Confucius was once asked: "What would you do if you had to govern a country?" Confucius replied: "Use language in the right way. If a language is not used in the right way, the words do not correspond to reality. And if what is said is not what is meant, affairs cannot be carried on to success."
For more information, please call +31 (0)20 645 31 20. And of course, you can mail us on: info@polydioma.nl